Merry Belated Christmas!
The Weber/Hanson family traveled out to Minnesota for the holidays, and boy did we have some snow to deal with! There was lots of it! We flew out of Boston the day after a snow storm and nearly missed our flight out since there were so many people changing flights from the day before and holding up the lines (so much for printing out our boarding passes and paying to check our bags online!). After getting to Bemidji, we had a few dry days, then the snow hit! We were in the midst of that slow-moving storm that crippled the midwest. It made for a lovely Christmas day, but it decided to stick around until after the holiday which was awfully inconvenient on Saturday, when we attempted to fly home. We got as far as Minneapolis, but missed our connection and had to spend the night. I'm a bit surprised we're not still there!
As you can see from the above photo, Dashiell was longingly waiting to play in the snow on Christmas Eve morning. This was prior to the storm, so the snow he played in was "old snow". Later that day he and his cousin Abby spent some quality time outside.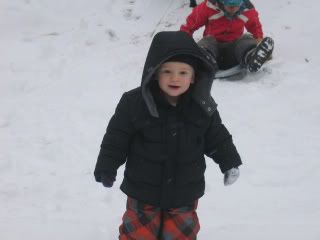 Here he is checking out his fancy new snowpants:
Despite our many travel woes, we had a wonderful time in Minnesota! It was fun seeing Dashiell so excited to see his grandparents, aunts and uncles, and cousins. And of course Idgie, aunt Lisa's black lab. I'll try to post more pictures of our Christmas activities soon!